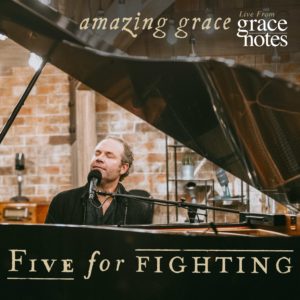 Friends,
I hope you are all holding up well during these challenging and stressful times.
I wanted to let you know that this Sunday June 21, I will be appearing on the Sunday Music series "Grace Notes" on BYU TV. The show airs at 1:30pm EST and again at 4:30pm EST.  You can watch on BYUtv mobile app, BYUtv.org or on most satellite and cable carriers.  You might remember we recorded a Christmas Under The Stars special with BYU TV a few years ago and it's always a pleasure working with them. I will perform 2 songs, including Amazing Grace, as well as an in depth interview. It was a tad intimidating covering such a powerful song, that has been sung by so many icons in music, but I hope you enjoy my version. I will also be singing an acapella version of "Hope".
My Live version of Amazing Grace is available on all the music platforms if you would like to stream it. Just search Amazing Grace (Live from Grace Notes) and Five For Fighting and you should be able to find it. The Spotify link is
https://open.spotify.com/album/1Dik5nvn7A2qMFtPNS8kqM?si=wi2HqnRCSyC4zikRRMX4nw
On the personal front I have been spending the majority of my time working with the family business trying to guide us through the pandemic and economic crisis. I have also found some time to begin writing again. I hope to have some new music for you before too long.
I hope the Grace Notes episode provides a small escape from the stress and anxiety so many of us are experiencing.
I do believe in my heart, that we American's are closer together than what's being portrayed by some in the media. One blessing of spending years on a tour bus while, traveling through every state in the union, is I see first- hand the basic kindness, decency of our fellow citizens, and the core belief that every one of us deserves justice and fairness devoid of race, religion, or orientation. We certainly are not perfect and have a ways to go, but as we strive for positive change, lets continue to not only ask What Kind of World Do You Want…but to speak our minds, and constructively listen to the opinions of others.
That is after all, the American way.
Happy Father's Day.
J